Bah. Not only does he throw a party and not invite me, but now Loki seems intent on moving in on my territory by writing about artists that I've been championing for some time (Marty Rev, Shitmat, cLOUDDEAD etc). He'll be doing a Cabs post next, the blood-sucker!
Well, I feel perfectly entitled to draw inspiration from one of
his
previous posts
by taking another look at the wonderful world of Steve Stein
aka
Steinski.


One of the nice things about deliberately 'resting' one's own blog is that it gives me a chance to muck around doing other things, like finally transferring a few more vinyl nuggets into MP3 format. Ever since Loki linked to that version of Steinski's
"The Motorcade Sped On"
, I've been meaning to post another version of it, which comes from an old NME 7inch from 1987. This is the version I'm most familiar with and I think it's a better, tighter arrangement that really displays the brilliance of the concept to full-effect. It's almost like a pop-song structure, with the sirens and
"Mrs Kennedy Jumped Up, she called 'Oh No'"
section acting as a chorus. I think it's one of the finest examples of the early Hip Hop cut'n'paste montage approach ever. And it still gives me goose-bumps every time I listen to it.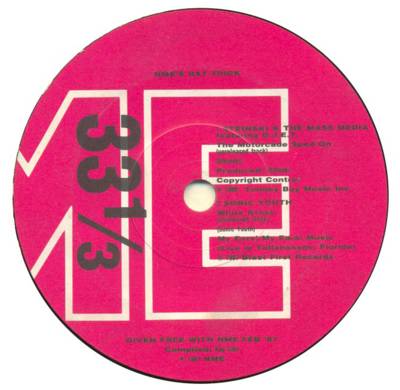 Steinksi & Mass Media featuring D.J.E.T. - The Motorcade Sped On
Then of course, no Steinski post is complete without his most famous tune,
"We'll Be Right Back"
, released on
Fourth And Broadway
and reaching a semi-respectable #63 in the UK charts back in January 1987. A superb collage of TV commercial sound-bites that acts as an eloquent statement on the mind-numbing overkill of modern-day consumerism that we're force-fed on an hourly basis. True, the world of TV advertising is a slightly more subtle one now (in the UK at least) but the message still hits on a few home-truths: they're still selling us more useless crap that we don't need, getting us to buy into a
lifestyle
in an endless cycle of bullshit, and the only ones who benefit in the long-run are the credit card companies. We don't
need
all these choices. Western/capitalist society is a bit disgusting, don't you think?
Steinski & Mass Media - We'll Be Right Back (Re-Edit)
This track comes from the remix 12 inch and also features an 'acappela' with just a selection of samples from the main track. Now, I bet there's plenty of amateur remixers and producers out there, so how about some of you try doing a new version using some of these bits of dialogue? You can e-mail your mix to me (keep it down to three or four minutes) and I'll post your efforts here at a later date. The best one will get a prize (the judges decision will be final). Good luck!
Steinski & Mass Media - We'll Be Right Back (Acappella bonus voices)
If I get
one single response
to this idea, I will be
amazed
....