Industrial Culture
: Harsh, electronic, noise-based, distopian...born from the economic wastelands of '70's Britain. So how on earth did the ambient Hawaiian exotica of Martin Denny get in the frame?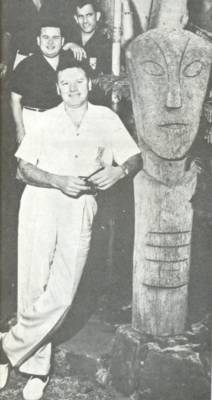 Martin Denny, posing with a Tiki in the late '50's.

Denny's first album,
"Exotica",
was recorded in late 1956. It was the culmination of several years of playing and experimenting in Hawaiian bars like
"Don The Beachcombers"
and
"The Shell Bar"
with a small band of local musicians; Arthur Lyman (vibes, xylophone, percussion), Ugie Colon (bongos, congas, 'bird calls'), John Kramer (string bass) and Harold Chang (drums, percussion). The idea of imitating the sound of bird calls and other wildlife came by accident, after Denny noticed one night that the sound of frogs croaking loudly in the pond behind the stage was an interesting effect. Denny found that he could do a passable impersonation of frog croaks by rubbing a pencil up and down a giro. Who needs digital samplers?!
Martin Denny - Love Dance
Recorded in 3 hours and 25 minutes,
"Exotica"
became a huge hit in the States when released by Liberty Records early in 1957. The American public were ready to hear these new sounds, and Denny's fascinating arrangements lent themselves perfectly to the new craze for stereo recordings.
"Love Dance"
is the final track on the album, featuring all the essential elements of the Denny sound. I particularly like that bizarre effect that comes in at 1m46s -almost like a malfunctioning synth sound!
Martin Denny - Quiet Village
Denny went on to enjoy a successful recording career right through to the end of the '60s, although
"Quiet Village",
penned by that other exotica king Les Baxter, remains his most famous piece. This is actually a later re-recording, from the album
"Exotic Moog"
which was basically a cash-in on Walter Carlos' phenomenally successful
"Switched-On Bach".
Bloody good record, though!
Denny's music never took-off in the UK. Perhaps his 'underground' status over here was part of the appeal to the Industrial artists. When Throbbing Gristle homaged Denny on their album
"20 Jazz Funk Greats"
it must've seemed an improbable move at the time.
Throbbing Gristle - Exotica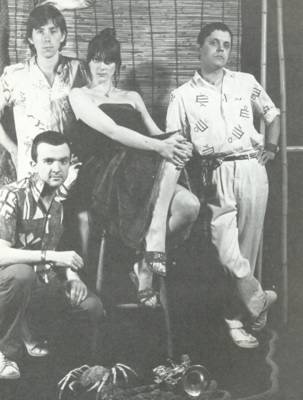 TG at the height of their 'Hawaiian chic' phase

Perhaps they were hipped to Denny by American noisenik Boyd Rice, a fervent admirer. As Boyd explained in Re/Search's
"Industrial Culture Handbook":
"Once in a while somebody does something so personal, so much them, that it seems just completely separate from everything else. What Martin Denny did back then was completely different from anything people were doing. Later, after he became popular, a million people put out 'exotic' albums, but he was using these strange instruments and these uncliched sounds and I think it had a more direct appeal, was more genuine - at least to me. It was such a strange idea to combine primitive instrumentation with relaxing, easy-listening arrangements - can you imagine the mind that would combine those two?"
Boyd Rice fulfilling a lifetime ambition to pose with the same Tiki, 25 years after Denny.

Jon Savage, writing
"The Tape Decays"
in 1981, mentions the Denny connection, whilst noting the earlier appropriation by Boyd and other American alternative acts:


"The Martin Denny Revival. Predating the current obsession with 40's muzak and the Specials' mood hi-fi. TG finished almost every gig with Martin Denny tapes, did a track "Exotica" in honour of his styles on "Jazz Funk Greats" and dedicated their "Greatest Hits" to Denny. TG were a little late on this one. The Screamers, Skot Armst, the Residents and Boyd Rice got there first. However, P-Orridge now has 23 Martin Denny platters. Eat your heart out!"
I remember reading something about 808 State's Graham Massey, where he recalled the revelatory experience of hearing Denny's music for the first time when Jon Savage played him some. Denny would later be an inspiration for the oceanic House of
"Pacific State".
23 Skidoo - Quiet Pillage
Another UK Industrial act to record an overt homage to Denny were 23 Skidoo. This is the final track on their "Seven Songs" album. It's so close to the Denny aesthetic it's almost a piss-take. All it needed was a few light piano chords and the deception would've been complete.
I'm sure you could find plenty more examples of Denny's shadowy influence on alternative music if you dug around. I wonder if Wiley, who's already shown a strong leaning towards 'world' music, has found him yet?