Danny Hyde
was a key member / producer/ programmer / friend / whatever of Coil during the 80s/90s and now he's working on an album of his own, featuring re-imaginings of several Coil tracks ,offal cuts and several brand spanking new songs of his own.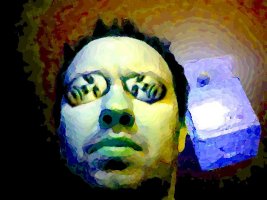 He's undoubtedly an influence on their time-dislocating, 'skewed, stretched and deep' approach to sound and his solo album (due to be released in January) seems like it's going to continue to push down barriers. Jhon Balance has already contributed some new vocal parts - one retrieved from an electronic mangle - and Danny has also reworked Nasa Arab from Stolen and Contaminated / First Dark Ride. Sounds very exciting.
Stay tuned for a Coil innerview in the (hopefully) very near future. Jhon Balance may well be mulling over the questions right now...
(note to Jhon Balance; if you're reading this and are gradually coming to a realisation that An Idiot's Guide to Dreaming is a hopelessly shambolic and amateurish affair and now don't want to answer any of my ill-prepared questions then feel free to shoot me down in flames in the comments box; at the very least it'll be entertaining for the readers).
By the way, it was my birthday yesterday and i got an i-pod. Weird thing is, I put it on and I
still
can't dance like they do on the adverts. If anyone else out there has experienced the same problem with their i-pod, let me know and maybe we could do a joint investigation into the Trades Description Act...
And while we're on the subject that Evil Knievel Bike never did manage to all those somersaults...
Listen to this and find out why
The Bran Flakes - Evil Knievel