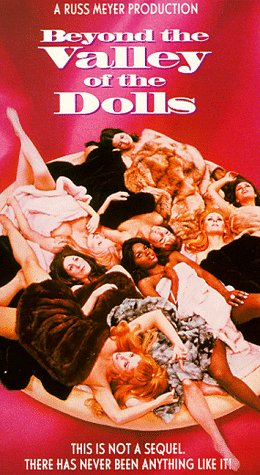 "This is my happening and it freaks me out!"
"I can feel my legs! I can feel my legs!"
"You're a groovy boy. I'd like to strap you on sometime."
"In a scene like this you get a contact-high!"
Beyond the Valley of the Dolls
is unquestionably Russ Meyer's greatest film and may be the greatest film of all time. I've watched this literally hundreds of times (okay: twice) and it's always in my dreams. The girls look great, the guys look better. There's swinging pop, swinging people and cats (not)bogarting the joint all over the shop. Add some patented breast shots, mix in a little Satanism, the heavyweight champion of the world and some of the greatest dialogue ever (Tarantino has nothing on these freaks)and you get a MUST see masterpiece of Sleazy Trash. Seriously, if you hate this then I hate you.
And the music, man, the
music
... It's just so GROOVY!
Try some. You will like it.
Come with the Gentle People
The Long Run
Find It
Look Up at the Bottom
Once I had Love
Sweet Talkin' Candy Man
All these tracks are nicked from
The Sound of the Dolls
which also has some WAV files that are just waiting for a damn fine sampling.
Anyone know what happened to these people? The girls who star in this are the most beautiful creatures in the known universe and yet I can't recall ever seeing them again. Man, it freaks me out!