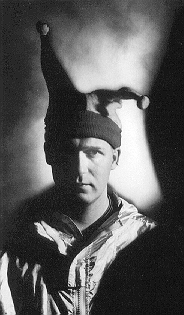 .
Just want to direct you to
Vague Space
where there's an old Coil track posted - Lorca Not Orca, from Love's Secret Domain which is just about my favourite album of all time. This probably isn't my favourite track - Further back and faster, Chaostrophy, Things Happen and the original version of Teenage Lightning are all better - but, just for the audacity of having such ornate Spanish guitar on an otherwise otherworldly technoid psych-spew means that it deserves attention.
On Amazon I wrote this review ages ago and I think it still stands:
No one else makes digeridoos sound scary. There's hiccupping beats here, dark nasties of sound, vocals pulled in, out and all over the show. (Somewhere there's a small creature in a jesters hat, pulling at the light cord...). There's Annie Anxiety and Marc Almond in there somewhere, sounding lost and alone - like they're yelling from inside thick black glass. Later on, there's how Beefheart might have sounded if he'd ditched the guitars and invested in some short wave radio's and vintage synths; there's deep sound everywhere on this album; the more you listen the more you hear. you ought to have this.
Buy the album
here
or
here
Coil are just about the only band who understand that sensory derangement is actually kinda fun (although if you read
Englands Hidden Reverse
the recording seems thick with demons) and this album seals everything together.
Still not sure about that jesters hat though John... kinda makes me think of all those sad little post-Glastonbury faces grinning inanely through the gloom of comprehension that comes with foregoing the 2 basic rules of Festival attendance:
1) Never buy a wacky Medievalist hat because it might be fun. It isn't. It's hotter than the sun.
2)Never buy anything by the Ozric Tentacles (or any ex-member of Hawkwind's band) even if they sounded absolutely amazing in the Magic Tent at 5 a.m. In the cold light of day and without the aid of hallucinogens it's just nasty noodling and you'll never listen again.
I have 3 Ozric tentacles CDs. Anyone want to trade?