Every so often I have a David Icke Day, a day when everything disconnected seems connected, when curtain twitches seem to be resonant of morphic changes or moonshadows or Holy Guardian Angel attacks, when glances and whispers are everywhere and even the radio is leaking enough alien radiation for me to start unwrapping the bacofoil...
The girl in the shop next door hairtosses and, just for a second, I'm whirled into an oddly skewed
De Clerambault's Syndrome
, which then flips into suspicion and paranoia because the old guy buying a copy of The Times is fiddling with his hearing aid in the same way as they do in Spooks and I'm lost for a mad moment in a reverie which takes me, variously, through a number of options:
1) I am in fact a quadruple agent, working for the Government Rural Disorder Unit or
2) I'm not but I think I am and I'm therefore going mad or
3) I'm an escaped Project Monarch victim, half-way through the process of deconditioning or
4) I'm an escaped Project Monarch victim, half-way through the process of
re
conditioning
And so on. All of this lasting just a few seconds of real-time between picking up some Digestives and heading towards the Cheese Strings (Okay, it was pine nuts and curdled wheyguts with goat liver sausage bars).
I guess that the fact that I'm reading
this
:
started it all off, with the sub Invisibles Sphinx riddles and silly sausage mindstreams and general, out-of-control-and-we-love-it
special
ness; the KennedySphinx is a great image, always thought JFK's face looked kinda
ironed
, in a similar way that I had to iron my Boys Brigade jerkins/regalia (every boy can be a Nazi mayor) and they always looked like origami... JFK's face looked flattened, spade-hit or stretched around a very small anvil...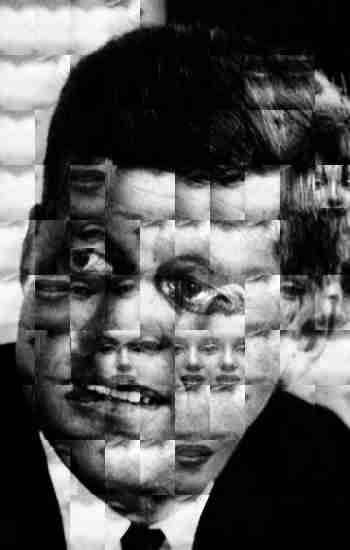 and then I put Shade down and I walked to the library and ended up buying a
David Icke book
for 10p and read the chapters on the murder of Princess Di straight through, using that technique from RAWs
Prometheus Rising
where you try and get into the midset of another and read it like it's really true... turns out Icke thinks that Di was murdered for much the same reason as
Grant Morrison
and then I took my daughter on a bike ride into town and the whole place seemed sated with magick and conspiracy (even more than usual - Bridgwater is a town steeped in ancient Babylonian Singlebrow Cults) even before three people were walking down the street wearing, you guessed it,
JFK Halloween masks
...
Our little legs haven't pedalled faster and all the way home we sang this:
The Monks - We Do Wie Du
A Yousendit Succourathonic MindMeld (TM)
in a kind of primitive cleansing ritual which, frankly, wasn't all that successful because when we got home, the old guy with the hearing aid was
still
outside the shop / our house (like,
three hours
later) and still fiddling with that hearing aid...
And I can't find those Digestives.
Now, as I'm writing this, hallucinating on
Joe Pesci's eyebrows
, I'm looking at the clock waiting for this month's David Icke Day to pass...
Not long now, not long...
Ah fuck it, you're all lizards anyhow. Do your worst.