The twisted Fake-Kraut Genius of
Xyhedrical Chile
(They were actually from Leeds!):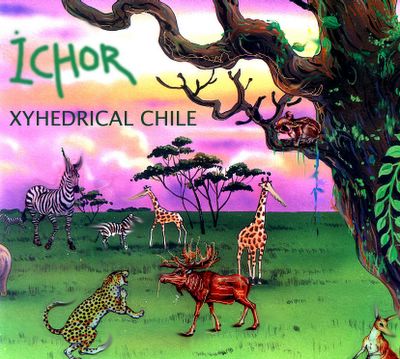 This is one you
won't
find in Stephen Stapleton's original list of 'influencial' records: an 80's English parody of 70's Krautrock (see comments-box on previous post) that almost manages to surpass its original source matterial: from the demented meta-Dronewerk "
Sphinx Loop
" to the cracked metallic acid-tape-collage of "
Hallo Seemann!
", or the shrink-wrapped three-guitar wig-out of "
Hot Electric Cops
"...Xyhedrical Chile were a five-piece from the North of England who insisted on singing in German (as, I guess, a sort of art-school reversal of the Krautrock tendency to sing in English)...for years after its release, due to lack of info, "
Ichor
" was widely thought to be a lost mid-70's German Acid-Rock artifact. There's a longer review of this languishing in my archives somewhere. The original vinyl was privately pressed (as a joke? No one really knows...) so often changes hands for near-obscene amounts of money. I recently bid on a vg-grade copy on eBay earlier this year, but lost interest at around £45. It eventually sold for around £270. A snip!
There's various overpriced boots and CD-rs of this LP floating around, but an 'official' CD copy is now available from Mike at
Astral-Turf
. But grab it while you can, you twisted, thrill-seeking weirdos...I think they're only licensed to press about 500 of these beauts.